Interactive lectures and training bring accountants the latest knowledge, tips, and tricks applicable to their practice on the same day – based on my own long-term experience, international know-how, and knowledge. Over 18,500 participants in my training have given me the ability to precisely target and individualize training with minimum theory and maximum practice. Online on all platforms such as MS Teams, ZOOM, Cisco Webex, Google Meet, and others. Offline, of course, if the situation allows.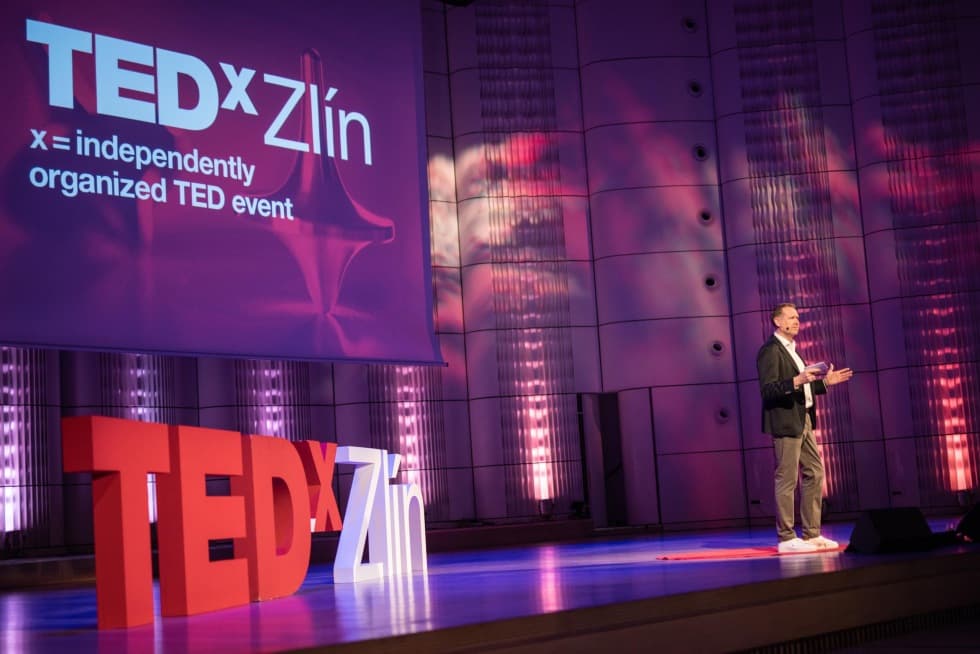 CONVINCING PRESENTATION ONLINE
Lectures or practical training on how to present in an online environment on platforms MS Teams, ZOOM, Cisco Webex, Google Meet, and others. The difficult situation related to COVID-19 has led most of us to the need to present online. In 2020-2021, Martin Vasquez lectured and taught over 1,200 hours online, mentored Czech doctors in the ability to present the results of medical studies, and prepared a number of online conferences. He transformed these very practical experiences into training that is focused on clarity, comprehensibility, persuasiveness, and interactivity in an online environment. This online training can be followed up by individual mentoring, which gives participants even more personal feedback and a shift in online presentation skills.
7 TRICKS OF THE BEST TED SPEAKERS
An interactive lecture or training session on how to apply the simple principles used by the best TED Talks speakers to your presentations. During the lecture, you will learn how to make a presentation unique and memorable, how to simplify complex information, how to work with the audience, and how to bring interest and a story to the presentation. The lecture consists of an explanation, video demonstrations, and practical tasks, on which the listeners can try out the tricks used in the TED Talks platform. Martin Vasquez works with TEDx Prague, where he helps speakers prepare for the often difficult task of standing in front of hundreds of people and telling them their stories and experience.
ELEVATOR & INVESTOR PITCH
Martin Vasquez prepares speakers for MASH UP investor evenings in IMPACT HUB Prague or for other conferences where you need to impress and present your idea, project, or product in a short time. We will show you how to explain your intention, and how to name the value proposition and unique selling proposition. We'll explore how to make sure the other party remembers your information and moves from indifference to interest and action. We will also focus on personal storytelling, which is an integral part of a good presentation. Interactive lecture based on practical exercises and case studies.
EFFECTIVE PRESENTATION FOR MANAGEMENT AND BOARD
A very practical lecture or training that teaches participants how to present to management and the company board. How to make them pay attention to you, and how to simplify complex information, graphs, or analysis into simple presentations. Complex does not mean complex. Students will learn how to structure information, how to build a graphic form of slides, and how to create simple offers for management decision-making. Martin has been working for companies for over 17 years, he has seen several thousand presentations across the business and heard the complaints of hundreds of managers about what exactly they need to see in the presentations of their subordinates and still do not see.
STORYTELLING FOR BUSINESS AND LEADERSHIP
A lecture or workshop that teaches participants how to find and tell stories that enhance the value of a product or service it offers. Much like a story enhances the value of a product, it enhances the impact of a motivational speech or leadership presentation. Through the story, you share basic values, goals, and achievements with people. The story is an integral part of a good presentation, business meeting, or public speech. Stories tap into both our rational and emotional sides of decision-making. Therefore, those who use them effectively are able to achieve better results. During the lecture, we will show you where to get good stories, when to use them, and how to tell them.
AUTHENTIC PRESENTATION AND RHETORIC
Interactive training based on work with the body, breath, and voice, which shows how to correctly formulate ideas, and how to vividly and naturally convince the audience. The goal is the authenticity and credibility of the speech, the confidence of the performance, and the strengthening of the ability to attract and keep the attention of the listeners. Many salespeople or bankers are great with information, know the sales cycle, and have enough arguments, but their speech is strangely cold and impersonal. This lecture shows the way to authenticity, naturalness, and emotions in speech.
BE THE MASTER OF IMPROVISATION!
Live inspirational lecture or workshop on the ability to respond to changes, innovation, and adaptability. In the beginning, we will go through the findings of neurology together, which answer the question: "How to handle an unprepared situation?". Improvisation requires coping with stress, alertness, creative thinking, and the ability to find new novel solutions. We will show you techniques to develop improvisation and use this skill when you really need it.